Health Provider
To locate a physician or facility for treatment participating with Meritain:
Please call Meritain Health at 1-800-343-3140 for help finding an in-network provider. Providers should also contact Meritain Health at the same phone number if they have a dispute regarding the contracted fee. Members' questions about benefits and providers questions about claims status should continue to be directed to the Health and Welfare Fund.
To access the Aetna network, click here. Choose Aetna Choice POS ll (open Access) under Select a Plan.
Disclaimer: Please note that this web link is to be used for the sole purpose of locating covered providers in the Aetna Network. Any other information set forth on this web page pertaining to benefits does NOT apply to the participants of the Central PA Teamsters Health and Welfare Fund. All questions pertaining to Fund benefits should be directed to the Fund Office.
For information on Centers of Excellence for Transplants-Institute of Excellence Transplant Facilities-on the DocFind page, click on Directories and Resources
Alliance Community Healthcare
Central Pennsylvania Teamsters has teamed up with Alliance Community Healthcare. The location at Local 429 is currently closed. Please continue to check back for updates.
Alliance Community Health Center provides primary care services that ensure that our patients care continues throughout life. Alliance is Federally Qualified Health Center that was formed in Hudson County, NJ that offers a comprehensive range of healthcare and educational services to care for an under-served patient population.
Alliance was established in 1963 as a family planning clinic and its legacy in the community is in Women's Health.
Alliance Community will be opening another location on Penn Ave in Wyomissing coming soon.
If you would like to become a patient of Alliance Community Healthcare please fill out the Patient Enrollment Form and fax to 201-451-8300. You could be eligible for $0 copay for your prescriptions prescribed by Alliance Community Healthcare. If you have questions on how to become a patient please contact Charlotte Houser at 610-320-9231.
Alliance PA Pharmacy, LLC located in Wyomissing, PA is now OPEN for business!
If you are currently a patient of Alliance Community Healthcare you can now pick up all of your prescriptions for a $0 copay as prescribed through Alliance Community Healthcare at this location.
Alliance PA Pharmacy is also a regular retail pharmacy and can fill prescription drug orders for all Health & Welfare Fund participants, NOT just Alliance Community Healthcare patients. They will provide prescription drugs, including refrigerated medication, at the same copayments and quantities for a 30-day supply normally filled at your local retail pharmacy AND for a 90-day supply which would normally go through the Mail Order program managed by Global Pharmaceutical Benefits ("GPB") the Fund's Pharmacy Benefit Manager.  The staff at the Alliance PA Pharmacy is available and ready to assist Central PA Teamster Health & Welfare Fund Participants with their prescription needs. Scripts can be dropped off at the Penn Ave location, electronically uploaded to Alliance PA Pharmacy or faxed from a Physician.
Please note that this location does NOT carry or dispense any controlled substances.
Location: 1235 Penn Ave, Wyomissing PA 19610.
Phone:  610-376-3000
Fax: 610-478-3000
Open Monday-Friday 10 am- 6 pm
Dental Provider
Delta Dental Website: https://www1.deltadentalins.com/
Please note: Delta Dental is the ONLY dental network participating with Central Pennsylvania Teamsters Health & Welfare Fund. DeCare Dental Insurance, a dental program sponsored by the International Brotherhood of Teamsters, does not participate with Central Pennsylvania Teamsters Health & Welfare Fund. Services performed by non-network providers, including providers participating with the DeCare network, will be paid as out-of-network and the member will be responsible for all non-covered services and balances. DeCare Dental Insurance is currently recruiting dental providers nationwide. Some of these dental providers have been contacting Teamsters members regarding the DeCare network. Do not be misled into thinking that services provided by DeCare dentists will be paid in-network by the Fund. Call the Health and Welfare Fund if you have any questions.
Vision Provider
When using the Member Portal you must create an username and password in order to locate a provider. Please click the logo to visit the Davis Vision website.
1. Log into your account
Log onto davisvision.com/member, and enter your username and password or your client code. If you are new to the site, you will need to register online before logging in.
When registering, you will need your:
member ID number or
Social Security number.
2. Access your benefit
From the home screen of your member portal, you can access your plan information, copays and forms as well as:
virtual frame collection
value added features
satisfaction survey
provider locator
3. Locate a Provider
Click on "Find a Provider" from the home screen, then search by Zip code, state,county, city or provider's name
Prescription Provider
Global Pharmaceutical Benefits
Pennsylvania Pharmacy Listing
Effective 7/1/2018 Walmart is now an eligible network pharmacy covered by Global Prescription Benefits.
To locate a pharmacy in your area please contact Global Prescription Benefits at 1-800-341-2234
Please note: effective 12/17/15, Target is no longer a participating pharmacy provider.
Teladoc- Effective January 1, 2020
$0 copay for participants in the Central Pennsylvania Teamsters Health and Welfare Fund.
You already have Teladoc as part of your benefits. Our U.S. board-certified doctors can diagnose, treat, and even prescribe medicine, if needed, for a wide range of medical needs, including the flu, allergies, rash, upset stomach and much more.
24/7 access to Doctors by phone or video.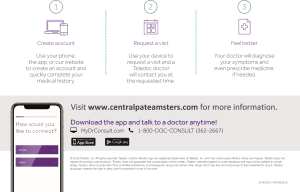 Questions? Contact Us!
Please note, If you are looking to apply for benefits please contact the Fund office by telephone.
In order to avoid a delay in responding to your question(s), please do not leave duplicate messages (e.g., via emails, website submissions or voicemails). We will do our best to respond to your message within 24 business hours. Thank you.